PROGRAMME TIMELINE FOR PORTUGAL
2011

Jun 2011

EFSF disburses first loan tranche

2013

Jan 2013

Portugal returns to bond market

2014

2014

Portugal returns to economic growth after 4 years
Portugal regained economic footing
Portugal successfully reformed its economy after receiving €78 billion in rescue loans from the EFSF and other creditors. The economy became more competitive internationally. The government reined in deficits. Supported by the EFSF's cash-for-reform approach, the economy started growing. The country ended its programme in 2014, and is now standing on its own feet again.
Portugal was the third country to receive assistance during the euro crisis. Unlike some other programme countries, Portugal had suffered a long period of weak economic growth before the crisis. Low interest rates created an illusion of prosperity, because credit was easily available. This contributed to high debt levels for companies, households, and the government. Wage growth persistently above productivity gains contributed to Portuguese products becoming expensive abroad, which accelerated a drop in exports.
There were also problems with the country's banks. Investors were worried that they were overly exposed to the weak economy, and had stopped funding them. Instead, the banks resorted to central bank financing. Another problem was that the country did not seize the low financing costs to keep debt under control. With budget deficits persistently violating euro area rules, debt spiralled. When the global crisis hit Europe in 2010, the country had little scope to support the economy, or the banks.
Investors responded by demanding ever-higher returns on Portugal's bonds. Early in 2011, it became too expensive for the country to borrow money on financial markets. There was a risk it would default. By April 2011, Portugal requested assistance from the EFSF, the EU, and the IMF.
The creditors made €78 billion available for Portugal over a period of three years. The EFSF, the EU, and the IMF each pledged a third of the total amount. The majority of the money was used to finance the budget, and part to recapitalise the banks. In return, Portugal committed to a large number of measures to reform its economy. It embarked on policies to bring down budget deficits, fix its banks, and modernise its economy. The creditors closely monitored its progress.
The programme quickly started to bear fruit. Exports started growing faster than the euro area average, as the economy became more competitive. A two-digit current account deficit was erased. The budget deficit shrank, and growth resumed. Portugal was able to issue bonds again, and successfully exited the programme in June 2014.
Details of EFSF financial assistance for Portugal:
| Date of disbursement | Amount disbursed | Cumulative amount disbursed | Initial final maturity | Revised final maturity |
| --- | --- | --- | --- | --- |
| 22.06.2011 | €3.7 billion | €3.7 billion | 05.07.2021 | 01.07.2036 |
| 29.06.11 | €2.2 billion | €5.9 billion | 05.12.2016 | 03.12.2025 |
| 20.12.11 | €1 billion | €6.9 billion | 23.08.2025 | no change |
| 12.01.12 | €1.7 billion | €8.6 billion | 04.02.2015 | 30.01.2035 |
| 19.01.12 | €1 billion | €9.6 billion | 19.07.2026 | 18.07.2027 |
| 30.05.12 | €3.5 billion | €13.1 billion | 30.05.2032 | 30.05.2032 |
| 30.05.12 | €1.7 billion | €14.8 billion | 30.05.2032 | 30.05.2035 |
| 17.07.12 | €1.5 billion | €16.3 billion | 17.07.2038 | 17.07.2038 |
| 17.07.12 | €1.1 billion | €17.4 billion | 17.07.2038 | 17.07.2040 |
| 03.12.12 | €0.8 billion | €18.2 billion | 03.12.2028 | 03.12.2028 |
| 07.02.13 | €0.8 billion | €19 billion | 07.02.2022 | 07.02.2026 |
| 27.06.13 | €1.05 billion | €20.05 billion | n.a. | 27.06.2033 |
| 27.06.13 | €1.05 billion | €21.1 billion | n.a. | 27.06.2034 |
| 22.11.13 | €3.7 billion | €24.8 billion | n.a. | 22.11.2033 |
| 28.04.14 | €1.2 billion | €26 billion | n.a. | 28.04.2038 |
Weighted average maturity of loans: 20.8 years
 
  Loan repayments
| Date of repayment | Amount repaid | Details |
| --- | --- | --- |
| 17/10/2019 | €2 billion | Early repayment (voluntary) |
Related documents
Legal documents
Review documents published by the European Commission
FACTS

amount disbursed to Portugal by its largest creditor, the EFSF

weighted average maturity of EFSF loans to Portugal

Date when Portugal starts to repay its EFSF loan. All payments due until 2040

amount used by Portugal for bank recapitalisation (from total EFSF/EFSM/IMF loan amount of €78 bn)

Portugal's estimated GDP growth in 2019

Average interest rate on EFSF loans to Portugal (Q2 2020)

Portugal issued 10-year bond, first after EFSF programme started
Explainer
How is Portugal's economy performing?
Thanks to the implementation of reforms, Portugal has been successful in improving public finances, reinforcing the financial sector and bringing the economy back on a path of recovery. Portugal returned to economic growth in 2014 after four years of recession (1.4% in 2016, 1.8% predicted in 2017). Fiscal adjustment has been significant, with Portugal's public deficit dropping from over 10% in 2009 to 1.8% (predicted) in 2017.
When did Portugal return to market financing?
Portugal returned to bond markets in May 2013, when it issued a 10-year bond with a yield of 5.67%. This shows that investors had quickly regained confidence in the Portuguese economy, as Portugal's 10-year bond yields were over 16% in January 2012.
When will Portugal have to repay the EFSF loans?
Portugal will repay the principal of the loan tranches starting from 2025, and the repayment is scheduled to end in 2040. An early repayment of €2 billion was made to the EFSF on 17 October 2019.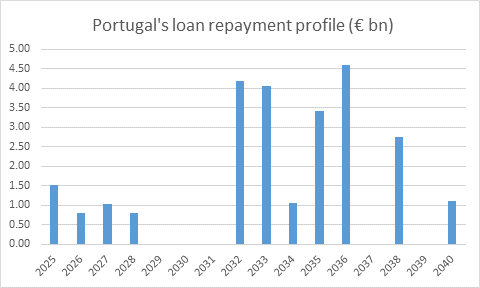 How did Portugal use the programme funds?
The majority of the EFSF programme amount was used for budget financing needs, while a smaller portion was used for the purpose of recapitalisation of banks (Millennium, Banco BPI and Caixa General de Depositos).
What policy conditions did Portugal implement in exchange for financial assistance?
The financial assistance provided was conditional upon the implementation of a macroeconomic adjustment programme, with reforms in three main areas:
A fiscal consolidation strategy, supported by structural-fiscal measures, aimed at setting the debt/GDP ratio on a downward path in the medium term;
Structural reforms to boost potential growth, create jobs, and improve competitiveness;
Stabilisation of the financial sector strategy based on recapitalisation and deleveraging, with efforts to safeguard the financial sector against disorderly deleveraging through market-based mechanisms supported by backstop facilities.
Was the full programme amount used?
No. Each of the three programme financing institutions (EFSF, IMF and EFSM) committed €26 billion to support Portugal's programme, but the country did not request the last loan tranche from the EFSM and IMF. Additionally, Portugal has already started making loan repayments to the IMF, reducing their outstanding amount with the fund. This makes the EFSF currently Portugal's largest creditor (€26 billion in loans).
Who contributed to the financial assistance package?
The programme for Portugal was agreed as follows:
€78 billion in external support over three years, comprising
€26 billion from the EFSF;
€26 billion from the EFSM (European Financial Stabilisation Mechanism – an EU facility funded through bonds issued by the European Commission);
€26 billion from the IMF.
Why did Portugal need financial assistance?
Portugal had suffered from low GDP and productivity growth for more than a decade before the crisis started. During this period, the low interest rates resulting from adoption of the euro boosted private and public consumption, but also indebtedness. Portugal's competitiveness was undermined by rising labour costs and structural problems. Growth in public spending was much higher than economic growth. Fiscal risks intensified through the expansion of state-owned enterprises and public-private partnerships. In early 2011, rising sovereign yields drove Portugal into a severe economic crisis. The country became unable to refinance its debt at sustainable rates and therefore requested financial assistance from the EFSF, the EU and the IMF.