PROGRAMME TIMELINE FOR IRELAND
2007

Mid 2007

Property bubble bursts

2008

Sep 2008

Irish government provides blanket guarantee for domestic banks

2011

Feb 2011

EFSF disburses first loan tranche

2012

Jul 2012

Ireland returns to bond market with 5-year issue

2014

2014

Ireland achieves highest GDP growth in EU
Ireland thrives again after crisis
Three years after its programme ended, Ireland is the fastest growing economy in the European Union. This illustrates the resounding success of the assistance programmes the EFSF provides. Only the second country to request public sector assistance in 2010, Ireland sorted out pervasive problems in its banking sector. This enabled the government to lay the foundation for future growth.
Ireland's problems started when real estate prices collapsed in 2007. For years, banks had fuelled a boom by providing easy mortgages. Real estate prices had increased fourfold from 1997. Much of the lending had been reckless, and banks were already buckling under heavy losses when the bubble burst. To prevent the banks from collapsing, the government supported them with taxpayer money.
Investors worried, however, that the losses at the banks were too big for the government to fund. They started asking for higher returns, making it too expensive for Ireland to borrow money on financial markets. In 2010, Ireland asked the EU and the IMF for financial support.
On 28 November 2010, Ireland became the second country during the euro crisis to enter an assistance programme. The total support provided by creditors was €67.5 billion. It was the first assistance package for the EFSF, which had been established months earlier. The EFSF provided €17.7 billion, with the rest supplied by the EU, individual EU Member States, and the IMF.
The troubles that Ireland encountered during the euro crisis followed an unprecedented economic boom in the decades before. One of Europe's poorest countries in the 1970s, Ireland's growth mushroomed, transforming it into the country with the highest per-capita income in the European Union in the 1990s. The banking sector in particular benefited from better access to European markets.
Towards the end of this era of rapid growth, the economy started to overheat. Government spending increased rapidly and tax revenues became less reliable. Wages were climbing too rapidly, making products expensive for buyers abroad. The booming economy was fed largely by aggressive bank lending. At the same time, financial regulation had become less restrictive.
During its three-year assistance programme, Ireland fixed many of these problems. Two major banks were closed down, while some of the remaining firms received a capital boost. A bad bank was set up to deal with problem loans and isolate them from the healthy banking business.
The country reduced its fiscal deficit, and successfully exited its EFSF programme without the need for any further assistance in December 2013.
Loan details
 
| Disbursement date | Amount disbursed | Cumulative disbursed amount | Initial final maturity | Revised final maturity |
| --- | --- | --- | --- | --- |
| 01/02/2011 | €1.9 billion | €1.9 billion | 18/07/2016 | 01/08/2032 |
| 01/02/2011 | €1.7 billion | €3.6 billion | 18/07/2016 | 01/02/2033 |
| 10/11/2011 | €0.9 billion | €4.5 billion | 04/02/2022 | 01/08/2030 |
| 10/11/2011 | €2.1 billion | €6.6 billion | 04/02/2022 | 25/07/2031 |
| 15/12/2011 | €1.0 billion | €7.6 billion | 23/08/2019 | 01/08/2030 |
| 12/01/2012 | €1.2 billion | €8.8 billion | 04/02/2015 | 01/08/2029 |
| 19/01/2012 | €0.5 billion | €9.3 billion | 19/07/2041 | 01/07/2034 |
| 03/04/2012 | €2.7 billion | €12.0 billion | 03/04/2037 | 01/08/2031 |
| 02/05/2013 | €0.8 billion | €12.8 billion | 02/05/2029 | 01/08/2029 |
| 18/06/2013 | €1.6 billion | €14.4 billion | n.a | 15/11/2042 |
| 27/09/2013 | €1 billion | €15.4 billion | n.a | 27/09/2034 |
| 04/12/2013 | €2.3 billion | €17.7 billion | n.a | 04/12/2033 |
Weighted average maturity: 20.8 years
Related documents
Legal documents
Review documents published by European Commission
FACTS

amount disbursed to Ireland by EFSF

weighted average maturity of EFSF loans to Ireland

Date when Ireland starts to repay EFSF loans. All payments due until 2042

Ireland's estimated GDP growth in 2019 (highest in EU)

Percentage of total external assistance spent on bank recapitalisation

Average interest rate on EFSF loans to Ireland (Q2 2020)

Ireland issued 5-year bond, first after EFSF programme started
Explainer
When will Ireland have to repay the EFSF loans?
Ireland will repay the principal of the loan tranches starting from 2029, and the repayment is scheduled to end in 2042.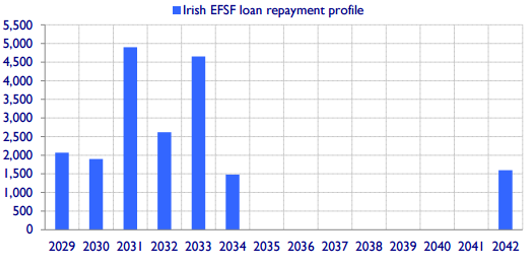 How is Ireland's economy performing?
Ireland has achieved a remarkable economic recovery since the conclusion of its financial assistance programme in December 2013. Ireland's GDP growth was the highest among all EU countries in 2014 (8.5%), 2015 (26.3%) and 2016 (5.2%). In addition, Ireland's unemployment rate of 7.9% in 2016 was well below the euro area average (10%).
When did Ireland return to market financing?
Ireland returned to the bond market in July 2012, when it issued a 5-year bond at 5.9%. Just one year earlier, the yield on 5-year Irish bonds was above 13%, which shows how quickly Ireland managed to put its economy back on track and regain the confidence of investors. The country had been forced out of international bond markets in September 2010.
How were the programme funds used in Ireland?
The majority of the EFSF programme amount was used for budget financing needs and a smaller portion was assigned for the recapitalisation of banks.
What were the policy conditions that Ireland had to implement in order to receive financial assistance?
A financial sector strategy comprising fundamental downsizing and reorganisation of the banking sector (including recapitalisation and deleveraging);
A strategy to restore fiscal sustainability (reducing expenditure, tax system reform, generation of additional revenue);
A structural reform package to underpin growth, focusing on competitiveness and job creation.
Who contributed to the Irish financial assistance package?
The programme for Ireland was financed as follows:
€67.5 billion in external support including
€17.7 billion from EFSF (this was the EFSF's first financial assistance programme);
€22.5 billion from EFSM (European Financial Stabilisation Mechanism – an EU facility funded through bonds issued by the European Commission);
€22.5 billion from IMF;
€4.8 billion in bilateral loans from the UK (€3.8 billion), Sweden (€0.6 billion) and Denmark (€0.4 billion);
€17.5 billion domestic contribution (from the Irish Treasury and the National Pension Fund Reserve)
 
Why did Ireland need financial assistance?
The Irish economy suffered as a consequence of a boom-bust cycle in the housing market. House prices increased four-fold from 1997 to 2007, when the bubble burst. As the property boom was financed through aggressive lending by Irish banks, the decline in property prices and the collapse in construction activity resulted in severe losses in the Irish banking system. The government of Ireland responded by injecting public funds into banks to restore their solvency (over €60 billion). This led to a huge increase in Ireland's public debt, while the sharp decline in economic activity caused GDP to fall and unemployment to rise. The Irish government was not able to resolve the situation on its own, and therefore requested financial assistance from the euro area countries, the EU and the IMF.