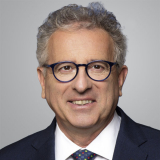 Function/Position
Managing Director
Pierre Gramegna is the Managing Director of the European Stability Mechanism (ESM) since 1 December 2022. He is also the CEO of the European Financial Stability Facility (EFSF) since 13 December 2022.
Mr Gramegna was Minister of Finance of the Grand-Duchy of Luxembourg between December 2013 and January 2022.
As a career diplomat, Pierre Gramegna joined the Ministry of Foreign Affairs in 1983. He was subsequently appointed Political and Economic Affairs Advisor to the Luxembourg embassy in Paris in 1988, an office he held for four years before being appointed Consul General and Director of the Board of Economic Development in San Francisco.
From 1996 to 2002, Mr Gramegna was Luxembourg's ambassador to Japan and South Korea. From 2002 to 2003 he was the Director of International Economic Relations at the Ministry of Foreign Affairs of the Grand-Duchy of Luxembourg.
From September 2003 to December 2013, he was the Director of the Chamber of Commerce of Luxembourg.
Pierre Gramegna was a promoter of the diversification of Luxembourg's financial centre, in particular with regard to FinTech and sustainable finance.
He served on the Board of Governors of the ESM and of the European Investment Bank. He also was Luxembourg's Governor to several international organisations, including the International Monetary Fund.
Prior to joining the government, Pierre Gramegna was also a member of the supervisory board of several companies, including Cargolux Airlines International SA (as chairman from 2004 to 2008), the Luxembourg Stock Exchange, LuxExpo Luxembourg, and BGL BNP Paribas Luxembourg SA
Pierre Gramegna studied Law and Economics at the University of Paris II (Panthéon-Assas), where he graduated with a degree (Maîtrise) in Civil Law in 1981 and a degree (Licence) in Economics in 1982. He also holds a Master of Advanced Studies (DEA) in European Community Law and was awarded the title of doctor honoris causa from the ESCP Business School and the Sacred Heart University of Luxembourg.