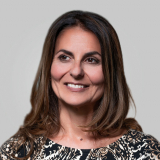 Function/Position
Senior Financial Market Analyst, Economic and Market Analysis
Elisabetta Vangelista is a Senior Financial Market Analyst at the European Stability Mechanism (ESM), where she monitors and develops market analytics in the Economic and Market Analysis team. At the ESM she also worked as Senior ALM Officer on portfolio optimisation. Before joining the ESM, Elisabetta worked as Head of Yield Curve modelling Research at the UK Debt Management Office and at the Bank of England on interest rates and public debt management strategy. Elisabetta was also Proprietary Fixed Income Trader at Banca Intesa-San Paolo in London.
She holds an Ms in Engineering from Universita' La Sapienza in Rome.
Her research focuses on interest rates term structure, risk premia, inflation expectations, funding liquidity, investment portfolio and monetary policy.
Other publications
What do the prices of UK inflation-linked securities say on inflation expectations, risk premia and liquidity risk?
Working papers
We analyse the impact of ECB asset purchases on sovereign risk premia during the Covid-19 pandemic. Using an enhanced event study design, we trace the impact of asset purchases over time, distinguishing between announcements, expectations, and implementation effects. The analysis draws on a new granular cross-country dataset of the ECB's asset purchases and market expectations. We find large announcement effects, particularly in countries with lower sovereign credit ratings. Expectations about the final size of ECB asset purchases ('the stock') and actually implemented net purchases ('the flows') affected risk premia at the time of severe market stress with large cross-country variations. Overall, the ECB's asset purchases were highly effective in warding off risks of financial fragmentation in the euro area during the pandemic.