ESM appoints David Eatough as General Counsel

Luxembourg – The European Stability Mechanism has appointed David Eatough to its Management Board, where he will take on the role of General Counsel. Mr Eatough, formerly Deputy General Counsel, starts working in his new capacity as of today. He joined the ESM in 2013.

"It is with great pleasure that I announce David's appointment as our next General Counsel. He is the natural choice to fill this crucial position as the ESM's top legal adviser. David has proven his value as a manager and lawyer inside the organisation, and brings a wealth of experience in financial markets," said Klaus Regling, Managing Director of the ESM.

After graduating from Oxford University and qualifying as a lawyer, Mr Eatough worked in investment banking at Credit Suisse First Boston and as head of legal at Natwest Capital Markets. In 1997, he became a partner at Clifford Chance. Based in cities around the world, he advised major financial institutions during the South East Asian crisis and the financial crisis of 2008-2012.

Mr Eatough is a British national, and is qualified both as a solicitor and barrister in England and Wales. He succeeds Ralf Jansen, who left his position on 31 January 2017.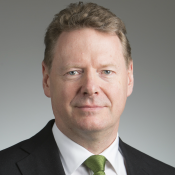 David Eatough