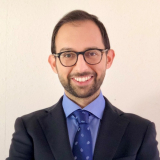 Function/Position
Economist, Financial Sector and Market Analysis
Mattia Picarelli is an Economist at the Financial Sector and Market Analysis division at the European Stability Mechanism (ESM). Prior to this, he conducted research and contributed with policy notes to the Economics and Market Analysis division. 
Mattia has also worked for the European Investment Bank and the European Parliament. 
He holds a PhD in Economics from Sapienza University of Rome. 
Mattia's analytical interests include sovereign debt and financial stability. His research has been published in Open Economies Review and Capital Markets Law Journal.