Regional Financing Arrangements (RFAs)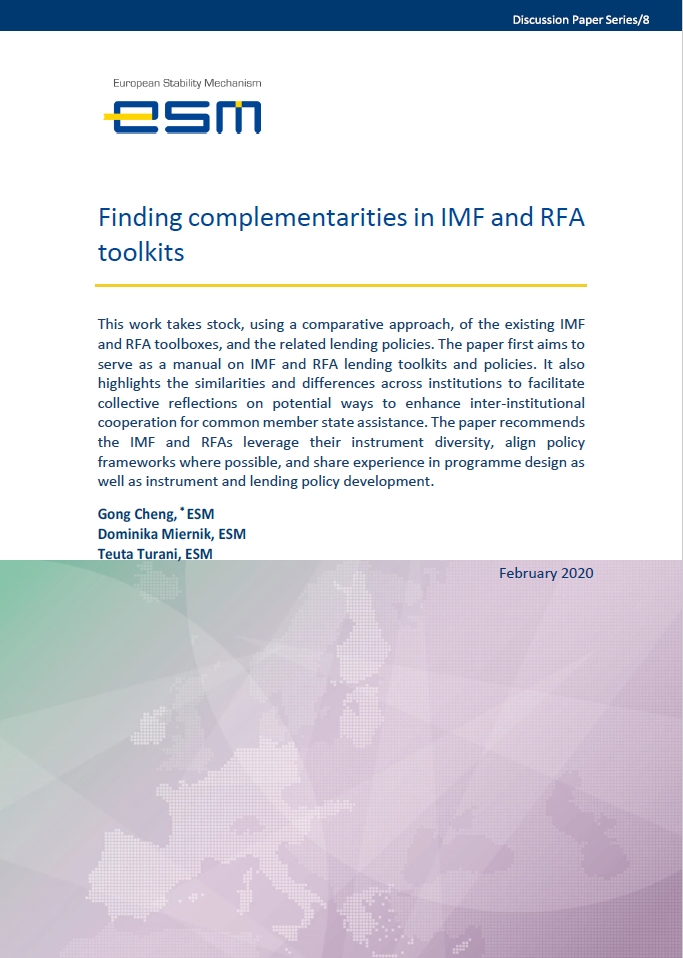 Authors: Gong Cheng, Dominika Miernik and Teuta Turani (all European Stability Mechanism)*
 
Abstract:
This work takes stock, using a comparative approach, of the existing IMF and RFA toolboxes, and the related lending policies. The paper first aims to serve as a manual on IMF and RFA lending toolkits and policies. It also highlights the similarities and differences across institutions to facilitate collective reflections on potential ways to enhance inter-institutional cooperation for common member state assistance. The paper recommends the IMF and RFAs leverage their instrument diversity, align policy frameworks where possible, and share experience in programme design as well as instrument and lending policy development.

Disclaimer: The views expressed in this discussion paper are those of the authors and do not necessarily represent those of the ESM or ESM policy. No responsibility or liability is accepted by the ESM in relation to the accuracy or completeness of the information, including any data sets, presented in this paper.
Source: European Stability Mechanism | Discussion Paper Series | Volume 2019 | No 8 | February 2020 | 42 Pages
* Note: Gong Cheng and Teuta Turani were employed at the ESM during the drafting of the paper; they are currently employees of the Bank for International Settlements.


Copyright © European Stability Mechanism, 2020 | All rights reserved. Any reproduction, publication and reprint in the form of a different publication, whether printed or produced electronically, in whole or in part, is permitted only with the explicit written authorisation of the European Stability Mechanism.