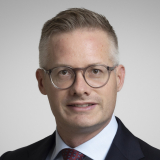 Function/Position
Head, Policy Strategy and Institutional Relations
Matjaž Sušec is Head of Policy Strategy and Institutional Relations at the European Stability Mechanism (ESM).
He leads a number of policy projects related to ESM's crisis resolution role, including the design of new stability support instruments and the policy review function. He represents the institution in European Union committees as well as in regular contacts with other International Organisations and credit rating agencies. Previously, Mr Sušec was Deputy Head of the Policy Strategy division and also mission chief for the ESM's post-programme surveillance activities in Portugal.
Before joining the ESM in 2013, Mr Sušec worked on monetary policy and investment issues in the field of risk management for the European Central Bank and the Bank of Slovenia. He holds a Master of Science degree in Economics from the University of Essex and a Bachelor of Science in Economics from the University of Ljubljana.
Other publications
Policy Strategy and Institutional Relations
Andreja Lenarčič and Matjaž Sušec explain European safe asset benefits in post-Covid-19 times
Speeches
Matjaž Sušec, ESM Head of Strategy and Institutional Relations