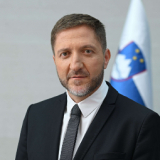 Function/Position
Minister of Finance
Klemen Boštjančič became Minister of Finance of the Republic of Slovenia on June 1, 2022.
For the last 10 years, Mr Boštjančič managed his own advisory company, which deals with
advisory services in financial and business restructuring (mainly for companies in
difficulty), the analysis of business models, acquiring and merging companies, obtaining
various permits, and personnel.
He has also performed several managerial and supervisory functions. He was the
president of the management board at Sava d.d., the president of the supervisory board
at Sava Turizem d.d., and a member of the management board at the Slovenian Directors'
Association.
Mr Boštjančič holds a bachelor's degree in economics.
Alternate Governor: Saša Jazbec