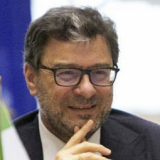 Function/Position
Minister of Economy and Finance
Giancarlo Giorgetti was appointed Minister of Economy and Finance on 22 October 2022. He has been a Member of the Italian Chamber of Deputies since 1996, where he has served as president of several parliamentary committees. He was also mayor of Cazzago Brabbia in Lombardy from 1995 to 2004.
Mr Giorgetti served as Secretary of the Council of Ministers from June 2018 to September 2019. He then held the role of Minister of Economic Development from 13 February 2021 to 22 October 2022.
Mr Giorgetti has a degree in Business Economics from the Bocconi University in Milan.
Alternate Governor: Riccardo Barbieri Hermitte