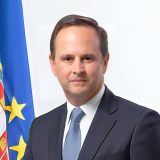 Function/Position
Minister of Finance
Fernando Medina is an economist, with a degree from the Porto School of Economics and a master's degree in Economic Sociology from the University of Lisbon's Institute of Economics and Management. 
He was Mayor of Lisbon (2015-2021), Deputy Mayor in charge of Finance (2013-2015) and President of the Lisbon Metropolitan Area (2017-2021). Before that, he was a member of the Portuguese Parliament also taking seat on the Budget and Finance Committee and the Committee to Monitor the Economic and Financial Assistance Programme. 
Between 2005 and 2011, he served in the Portuguese Government, first as Secretary of State for Employment and Vocational Training for the Ministry of Labour and Social Solidarity (2005-2009) and, thereafter, as Secretary of State for Industry and Development for the Ministry of Economy (2009-2011).  He was also Advisor for Education and for Economic Affairs for Prime Minister António Guterres.
Alternate Governor: João Nuno Mendes