Wopke Hoekstra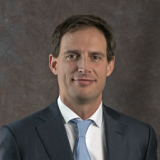 Function/Position
Minister of Finance
Personal details
Full name: Wopke Hoekstra
Place and date of birth: Bennekom, 30 September 1975
Place of residence: Bussum
Civil status: engaged, four children
Education
1994-2001: Law, Leiden University
1995-1997: History (foundation year), Leiden University
2005: MBA, INSEAD in Fontainebleau and Singapore
Career
After completing his legal studies, Wopke Hoekstra held commercial positions at Shell in Berlin, Hamburg and Rotterdam. In 2006, after obtaining his MBA, he began working for consultancy firm McKinsey & Company.
From 2011, he combined his role at McKinsey with membership of the Senate of the States General. He was deputy leader of the Christian Democratic Alliance (CDA) in the Senate and a member of the Senate Committees for Finance, Security & Justice, Social Affairs & Employment, and Foreign Affairs, Defence & Development Cooperation.
On 26 October 2017 Wopke Hoekstra was appointed Minister of Finance in the third Rutte government.
Party political positions and outside activities
Wopke Hoekstra chaired the 2017 CDA electoral programme committee. He also chaired the supervisory board of the National Maritime Museum, was a member of the board of the Friends of the Hubrecht Institute and an ambassador of the Princess Máxima Center for Pediatric Oncology.
Alternate Governor: Christiaan Rebergen